Vadapalani Temples
This is a famous Murugan temple at Andavar koil street, Vadapalani Chennai. The temple is more than 125 years old. Palani Andavar (Murugan) being the main deity there are many sannidhis like Varasiddhi Vinayaka, Chokkanathar, Parvati, Kali, Bhairava, Shanmuga with Valli and Devasena, etc in this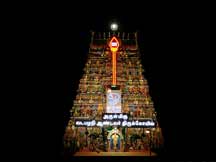 temple.
The moolavar in standing posture resembles the Palani Muruga. The temple has a hall for conducting marriages and religious discourses. There are more than 7000 marriages that happen here each year. There are small sannadhis for Dakshina Murti, Chandikeswar, Mahalakshmi.
The entrance to this temple is crowned with a rajagopuram adorned with several stucco images depicting legends from the Skanda puranam. In front of the temple is the temple tank. The eastern tower rises to a height of 40.8 metres. The 108 bharata natyam dance gestures can be seen on the eastern tower as well.
Skanda Sashti is celebrated here in the month of Aippasi. Other festivals celebrated here include Panguni Uttiram.