Kapaleeswarar
Kapaleeswarar temple is the 24th of the 32 Tevara Stalams in the Tondai region of South India. Tirumayilai is the most centrally situated Shivastalam of the three in (and around) Chennai - Tiruvanmyur, Tirumayilai and Tiruvotriyur.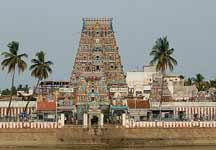 Legends: Parvati (Karpakambal) in the form of a peacock, Mayil is said to have worshipped Shiva, hence the name Mylapore. There are several literary works associated with this hoary shrine, which remains today, a seat of Tamil culture. The Poompaavai Patikam composed by Sambandar is associated with this temple & he is said to have brought back to life, Poompavai the daughter of a devotee of Shiva - Sivanesa Chettiar. This event is enacted on the 8th day of the annual festival in the month of Pankuni (Pisces).
The Temple: The current temple is a modern structure, built based on the descriptions in the Puranams and the Tevaram; the huge temple tank is the site of the popular Teppam festival in the month of Thai (Capricorn). The Karpakambal shrine in this temple attracts huge crowds on Fridays and on all special occasions. Tirumurai concerts are held regularly here, as are Uzhavaarattiruppanigal in the tradition of Appar. The Singaravelar shrine is where Subramanyar is said to have been given the Velayudham (Spear) by his mother - in a legend similar to that at Sikkal.. A towering Rajagopuram with several stucco images adorns the Eastern entrance to this shrine, where the sanctum faces the West, where the temple tank is located.
Festivals: Six worship services are offered each day here. In terms of a tradition of festivals and celebrations, Tirumayilai is second to none.