Ashtalakshmi Temple

Ashtalakshmi Temple is a recently built temple that stands on the shores of Bay of Bengal. The temple is situated in the Besant Nagar suburbs of Chennai city. The temple is grounded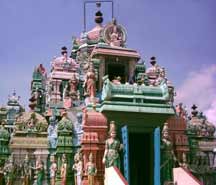 on the southern tip of a popular beach of Chennai that is Elliot's beach. The Tiruvanmiyur Bus Station is only a couple of kilometres away and provides easy access to the place.
Ashtalakshmi Temple is considered as the only temple featuring the eight manifestations of the Goddess Mahalakshmi. The temple was built in the year 1976 and features various characteristics of Dravidian temple architecture. Ashtalakshmi temple and the Mahalakshmi temple in Mumbai are the only temples of the goddess that are located on the Indian coast. The eight manifestations of Goddess Mahalakshmi include Sri Aadhi lakshmi the Goddess of health, Sri Dhanya lakshmi the Goddess of food, Sri Dhairya lakshmi the Goddess of courage, Sri Gaja lakshmi the Goddess of luck, Sri Santhana Lakshmi the Goddess of children, Sri Dhana lakshmi the Goddess of wealth, Sri Vijaya lakshmi the Goddess of victory and Sri Vidya lakshmi the Goddess of education. Some other deities worshipped here include Sri Hanuman, Sri Guruvayurappa and Sri Ganesh. The temple was built by a trust consisting of five members and headed by Mukkur Srinivasa Varadhachriyar. In the year 1994 the temple authorities by the state government and at present is run by the Hindu Religious Endowments and Administrative Departments. The temple witnesses a great fervor in the popular festivals like Navratri, Deepavali and Pongal.

The temple features a blend of ancient Dravidian architecture and the contemporary style of temple building. The temple complex consists of a series of tiers, five in number, with some prolific stone works. The images of principal deities, Mahalakshmi and Mahavishnu, are located in the second tier. On the southern end of the first tier is the image of Aadhi laksmi. On the western and northern turf are the images of Dhaanya and Dhairya laksmi. A flight of stairs takes from the first to the second one. Here one can find the shrine of Santaana Lakshmi facing the southward dierction. The shrine of Vijaya lakshmi is located in the same tier but towards the west. Facing the eastern side of the tier is the shrine of Gaja lakshmi. The fourth tier contains only the shrine of Dhana lakshmi, that faces towards the east. The whole structures is painted with a multitude of colors. With the sea in the background, Ashtalakshmi temple looks simply superb.