St. Andrew's Church
St. Andrew's Church, which is also famous as St. Andrew's Kirk, is situated on the Poonamallee High Road a few hundred metres from the Egmore Railway Station in the Chennai city. Chennai city constitutes the capital of Tamil Nadu state and houses great many architectural, historical and religious attractions. The monument is one of the best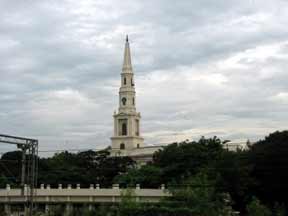 Georgian architecture buildings in South India and Asia at large.
Saint Andrew's Church is sometimes called as 'The Queen of Scottish Churches in the East'. The church was consecrated in the year 1821. The church was built for the Scottish Community that had settled in the Chennai city. The church foundation was laid by Doctor John Allen in the year 1818. East India Company under the banner of Major Thomas Fort de Havilland and Colonel James Caldwell were responsible for the construction of the church. The church construction plan was borrowed from an existing structure called St. Martins's Lane. St. Andrew's Church thus portrays the brilliance of Georgian Architecture.
St. Andrew's Church is considered as one of the best Georgian architecture structure in the whole Asian continent. The church interiors are covered with rich mahogany wood work. The floor of the church is provided with a cheque pattern marble that reflects the elegance of the structure. The dome of the church has a diameter of about 52 feet. There are 16 Corinthian circular pillars that support the dome. The dome is painted with the blue shaded lapis lazuli. The foundation of the structure has been laid by digging about 150 wells underneath. The walls of the church are bounteously decorated and the stained glass is exceptional. The roof of the building is accessible by a narrow stairway. In one of the inner halls is located a bell the chime of which is quite pleasant. The church tower is provided at the front end. One of the best features of the church is the lime stucco work. The stucco work gives an extra dimension to the building.