Thousand Lights Mosque
The Thousand Lights Mosque lies close to the Anna flyover on the Anna Salai Road in Chennai. The mosque is located in the Royapettah township in the capital city of Tamil Nadu. Some important nearby regions include the Teynampet and Nungambakkam.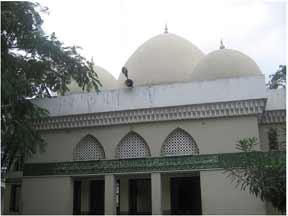 In the beginning of 19th century the place where the popular mosque stands used to be the assembling place of Shias, a sect of Muslims, in the month of Moharram. The Arcot family built an assembly hall in the year 1810 A.D. and eventually a mosque in the year 1820. The mosque is built over three acres of land that were donated by Nawab Wallajah. The place derived its name after the illumination of about 1000 oil lamps. However, contradictory evidences have been put by many who believe that the lights were provided by the Indian National Congress at the annual session to mark its first visit to the city. The mosque is treated as an important shrine by the locals living here. The mosque has been renovated many times after its construction. Some important features of the mosque include the structure itself, a library, burial ground and a guesthouse.
Architecture
The mosque represents one of the popular medieval architectural style building. The structure is multi domed building with two exalting minarets. The minarets reach to height of 64 feet above the ground. The structure is painted with the sayings from the Muslim holy book, the Koran. A main hall is provided in the ground floor for offering prayers. There is a separate room for women. The two rooms on the second floor have been designed to represent the sanctuary. These rooms are called as Bargah. The place does not constitute a burial site. However, the wooden planks on the second floor are held to represent the harems (sanctuary) of Imam Hossein and Abolfazl-al-Abbas. The mosque is a famous pilgrimage place for the Shias of India, especially from South India.