Purasawalkam
Purasawalkam, also known as Purasaiwalkam or Purasai, is a residential area and shopping district in Chennai. Thana Street, in the heart of Purasawalkam, is one of the busiest streets in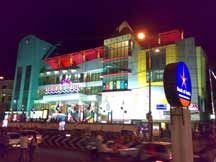 Chennai. It is famous for its jewelry and pharmacies. It also features a busy grocery market.
Abirami Mega Mall, one of the main attractions in Purasawalkam, is a cineplex including four main theaters and many shopping outlets.
There are also many textile showrooms, including Madhar Sha, Sree Krishna, Textile India, and Ranjanas.
The towns famous Vegetarian Hotel Saravana Bhavan has its branch located in the corners of Vellala Street. Raaj Bhavan is another notable vegetarian hotel.