Pondy Bazaar
Pondy Bazaar is a market located on Thyagaraya Road, in T. Nagar, in southern Chennai, Tamilnadu, India. It is an important commercial hub of South Chennai. Commodities are available in different price ranges here.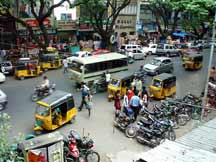 Pondy Bazaar is easily the one stop place for all types of clothes in Chennai. Right from the cheapest cloth materials to the most expensive ready-made shirts and sarees, everything can be found within a range of 2-3KM. Big brands like Globus, Raymond Group, Reebok, Nike, Levi Strauss & Co. and Colour Plus are present along with cheaper outlets like Big Bazaar and Sri Krishna Collections among others, thus offering a wide range of options to the middle as well as the upper class shoppers.
Most necessary commodities such as used books, buckets, ropes, soap cases, hair bands, bangles, bags and other accessories are available from roadside vendors at Pondy Bazaar.
Tirumala Tirupati Devastanam located near Venkatnaraya Road (T.Nagar), one of the famous temple of Lord Balaji. Mupathamman Temple Located near Duraiswamy Bridge which is one of the famous temple for Mariamman.