MGM Dizee World
The MGM Dizzee World is one of the few best amusement parks in the capital city of Tamil Nadu, Chennai. The park is located near the Muttukadu region in the outskirts of the city.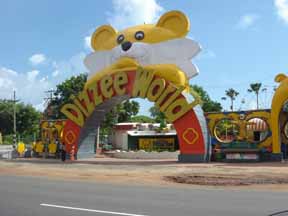 The places can be reached by taking the route to Mahabalipuram.
The park location makes MGM Dizzee World one of the best resorts in the city. The amusement park is known to offer some of the exciting rides and water sports. The amusement park consists of three sections, which are MGM Dizzee World, MGM Marry World and MGM Water World. MGM is provided with some beautiful lawns dotted with colorful flowers and a private beach lined with coconut trees. The park has been established to cater to all the age groups, be it children or adults.
The park provides various facilities that yields to the fun and frolic prevalent at MGM Dizzee World. The park provides more than 60 rides, some popular ones including toy trains, the giant wheel and roller coaster and the ubiquitous 100 feet Dizzee Shake. The water sports hosted by the park are equally entertaining. Besides rides and sports the park provides a private beach strip for sun bathing and other beach activities.
The park visiting hours are from 10.00 a.m. to 7.30 p.m.