Abirami Mega Mall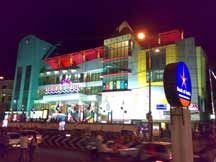 One of the big malls in chennai. It has a snow world with the shows below
a. Exotic Snow Sledges
b. Have the divine darshan of Mount Manasarovar and Amarnath Ice Lingam
c. Artic, Antarctic Igloos
d. Build your own Snow Man
e. An educative programme for children in the form of 3-D Museum. Which says - All about snow, you want to know.
They have other kids attractions, movies and eat outs.